Info
A great domain gives you an unfair advantage from day one.
A short and catchy name creates immediate impact on today's internet.
A memorable domain means your customers can remember you next week – and tell their friends.
You get instant brand credibility. You get implied authenticity – and authority.
People see your domain and think – great, the address of a professional company and website.
People associate your prestigious name with leadership in your industry. Your business gains implied trust.
You get an asset that can dramatically save in marketing costs compared to an inferior substitute.
You get an asset that is likely to appreciate in value just as domains have appreciated since 1995.
How to buy a name from BrandableDomain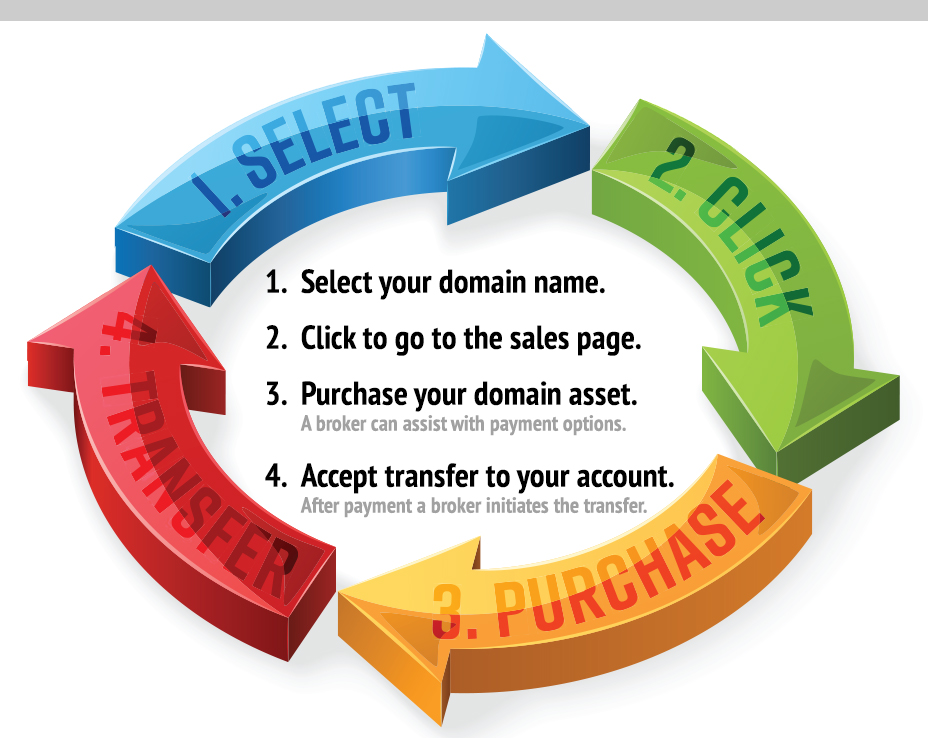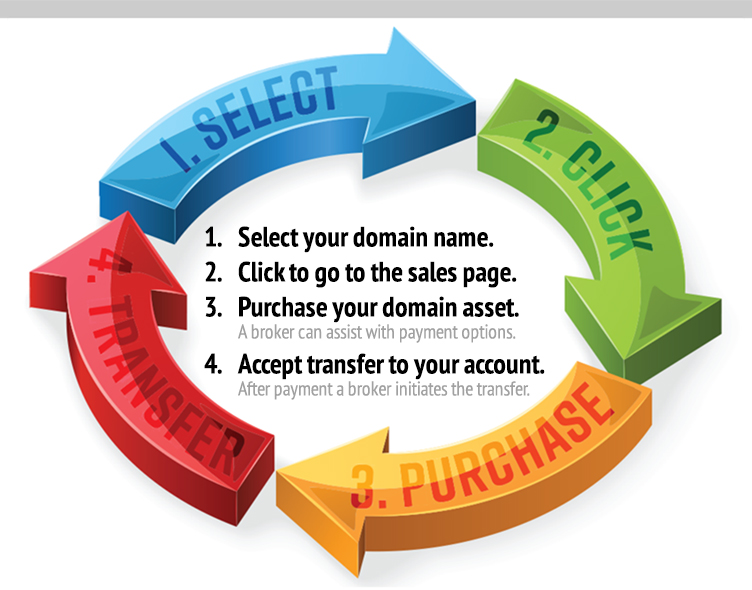 All BrandableDomain names are registered at Uniregistry® – the accredited and acclaimed domain name registrar. For your ultimate convenience, all domains are listed for immediate sale on the Uniregistry Market to take advantage of their superior sales and escrow service. This means you can take possession of your asset very quickly after verified payment. Your domain can be quickly transferred to your account.
Uniregistry acts as our exclusive third party sales agent. Uniregistry Market is the world's leading domain aftermarket platform with more than 30 professional brokers.
All domains are listed with Buy Now prices. Simply click the "Buy Now" link on the name you want on any of our seven sales pages. This in turn takes you to a Uniregistry sales page on their independent website.
Next, click the "BUY IT NOW" button to complete your purchase with the professional assistance of Uniregistry. Your purchase is protected with Uniregistry's Secure Exchange technology.
A sales page displays the message: "Most domains can be transferred to you instantly upon purchase." Major credit cards are accepted. Simply follow the instructions and a Uniregistry broker will assist you where necessary.
Since all BrandableDomain names are registered at Uniregistry, this means you can choose to have your domain placed into your new Uniregistry account straight after payment. (To transfer to an outside registrar takes about a week. More info about transfers follows.)
Typically, acquisitions of up to $5000 may be made via credit card, while higher value purchases will necessitate you to use Escrow.com and/or a wire transfer. The payment method is determined by Uniregistry, not BrandableDomain. A broker can advise you about this.
Another independent company Escrow.com can optionally provide their renowned escrow service which protects the assets of both buyer and seller by acting as an intermediary. (Your payment is securely held in escrow during the sales & transfer process. Your money is protected – BrandableDomain does not receive your money until your possession of the domain is verified.)
Secure payment, escrow and transfers are managed by Uniregistry Secure Exchange technology (and Escrow.com when applicable) with full cooperation from BrandableDomain, the current owner of all the domains on this site.
Domain Availability
Please note that while all domain names here are listed for immediate purchase – a pending sale by another buyer in the last few days may mean a listed name is no longer available. (This situation is so rare it has not yet happened!)
What this means is that 99-100% of all listed domains are genuinely available at any given moment. However, if someone has initiated purchase of a name in the last few days but is still arranging payment, that name may still be listed for sale.
(For example, it may take a day or two for a customer to sign up with Escrow.com.)
Domain listings are quickly removed or marked as "Pending" once a sale is confirmed or considered genuine in the opinion of BrandableDomain.
If a sale is already pending you will be advised and you will not be charged. Our apologies in the unlikely event this happens to you.
It's a good idea to make a shortlist of choices – and move quickly!
Please also note that BrandableDomain is not connected with Uniregistry – they are simply our favorite and trusted registrar and exclusive sales broker.
As an accredited registrar and operator of the world's leading domain resale market, Uniregistry makes acquisitions as simple as possible and buyers are provided with a superior and integrated experience.
Verification
Buying a domain can be a significant acquisition, so naturally you will want to be assured that all parties involved enjoy your complete trust.
Our domains
If you wish to verify that a domain listed here is actually for sale as stated, simply navigate to the domain you want in your browser instead of clicking through from this site. The same sales page will appear as if you had clicked the link from one of our sales pages.
To verify our current ownership of any of our domains, you can check the "WHOIS" via ICANN, the Internet Corporation for Assigned Names and Numbers:
Then, check the WHOIS for BrandableDomain.com. You will see that the contacts for all listed domains are the same as for BrandableDomain since all are owned by Australian company Click as a Flash.
BrandableDomain
BrandableDomain.com is owned by Click as a Flash, which is a registered entity with the Australian Securities and Investments Commission (ASIC).
If you wish, you can check our details on ASIC's official website (asic.gov.au) on this business name page.
To verify our credentials, the business name is Click as a Flash and its Australian Business Number is: ABN 62 188 088 529. Select the category "business names holder - person" and input the business number section only without spaces: 62188088529
Uniregistry
The Uniregistry® domain registrar is a leading global domain company and accredited with ICANN. If you wish to verify this, it is listed under the name Uniregistrar Corp on the Internic website.
Uniregistry also operates the world's leading domain aftermarket sales platform – Uniregistry Market.
All BrandableDomains inventory is listed for sale on the Uniregistry Market so that both buyer and seller can experience the superb service and efficient transfers that Uniregistry's large team of domain brokers offer.
You can read a great overview of the excellent Uniregistry service on their Market page.
Please note that BrandableDomain pays the commission for this service, not you the buyer! Detailed info about the Uniregistry professional brokerage service can be read on their brokerage page.
Uniregistry is an entirely independent company from BrandableDomain. We use their premium services exclusively due to their unmatched quality, commitment and service.
So if you visit their site, you are then subject to their independent terms and conditions.
Escrow.com
Escrow.com is the world's leading online escrow provider. They are highly experienced with securing payments for domain name sales and transfers. They are licensed, audited, insured and bonded with the government. Escrow has processed more than $3 billion in payments.
There is a fast five step process.
1. Buyer and seller agree on terms.
2. The buyer pays Escrow.com.
3. The seller transfers the domain to the buyer.
4. The buyer confirms possession.
5. Escrow.com disburses the money to the seller.
Your payment is protected during the entire transaction. You are notified of all major milestones. You have great peace of mind.
Escrow.com is located in California and is supervised for compliance with escrow statutes and regulations. It is regularly audited by the California Department of Business Oversight under License #9631867.
BrandableDomain (via its owner Click as a Flash) is a qualified member of Escrow.com and highly recommends its services. Acquisitions happen as quickly as possible and you receive progress reports during the process.
Transfers
We try to make your domain transfer as easy as possible.
The message on the Uniregistry sales page reads: "Most domains can be transferred to you instantly upon purchase." What this means is that you have the option of choosing a rapid "push" transfer to your own Uniregistry account. All you have to do is provide the email address you use as the username for your account, then the domain is "pushed" into your account. You also need to accept it.
(A "push" is also sometimes known as an "account change" since the registrar itself does not change.)
After receiving your domain, you should immediately check to see how much registration time your name has remaining. Depending on your luck, you could have less than one month or more than 18 months left of your annual renewal. This is highly important!
Mark the renewal date in your diary and always renew at least a month early, every year.
Alternatively, you can arrange to transfer your domain to an outside registrar which typically takes about a week.
Of course, you also have this option at any time in the future.
An outside transfer is slightly more complex. First, we send you the "authcode" for your domain. (This is an authorization code, which is like a security password for domains.)
Then, at your chosen receiving registrar, you purchase an inbound transfer (which typically costs about $12, about the same as an annual registration fee). Follow their instructions and input the name of your domain and the authcode we sent you. You should receive an email to approve your acceptance. The transfer takes about one week, the small time delay is a security measure.
(Please note that for security reasons, a domain that has been at its current registrar for less than 60 days may have a "transfer lock" applied to it by ICANN which oversees the domain name system. This does not apply to "push" transfers.) Some BrandableDomain names have been continuously held for more than a decade, but on the other hand, new inventory is being added when available.
Check that your new registrar has also given you an extra year's registration which should be cumulative to whatever was prior. ("Push" transfers are free, but do not include the extra year's registration.)
What is a Brandable Domain?
A brandable domain is an invented or uncommon "word" or "phrase" that is memorable, catchy and pronouncable so that the meaning and personality of a brand can be assigned to it. Brandables are typically either made-up words (or altered words) or an unusual word combination (or word with an imaginary prefix or suffix.)
For an expansive definition of what a brandable domain actually is, and a discussion about their strategic advantages, please visit our Brandable Domains page.
Contact
For geniune sales enquiries and without any obligation whatsoever, please contact BrandableDomain founder Dave Tyrer.
dave [at] brandabledomain.com